Exterior Window Wrapping
Chicago and Surrounding areas
Protection from elements that wear and rot wood
Isolating trim from insects such as termites and beetles
Resistance from fire, frost and freezing
Excellent appearance for a continuous "just-painted" look
One-time cost with long-term money savings
We do custom window trim installation
Windows capping is a technique used to cover the exterior wooden trim around windows with a protective metal layer. This is done to prevent water damage, rot, and insect infestation, which are common problems that can occur in wooden window trim. Windows capping also enhances the curb appeal of a home, as it can be customized to match the color and style of the home's siding, vinyl wrap windows.
Windows capping service Enriquez offers a wide range of windows capping services to homeowners in Chicago. They can install new capping on existing windows, replace old or damaged capping, and even install capping on new construction projects. The company offers a variety of metal options for capping, including aluminum and vinyl, and they can customize the capping to match the color and style of the home's siding.
Vinyl wrap for window frames
Exterior vinyl window wrap
Aluminum window trim wrap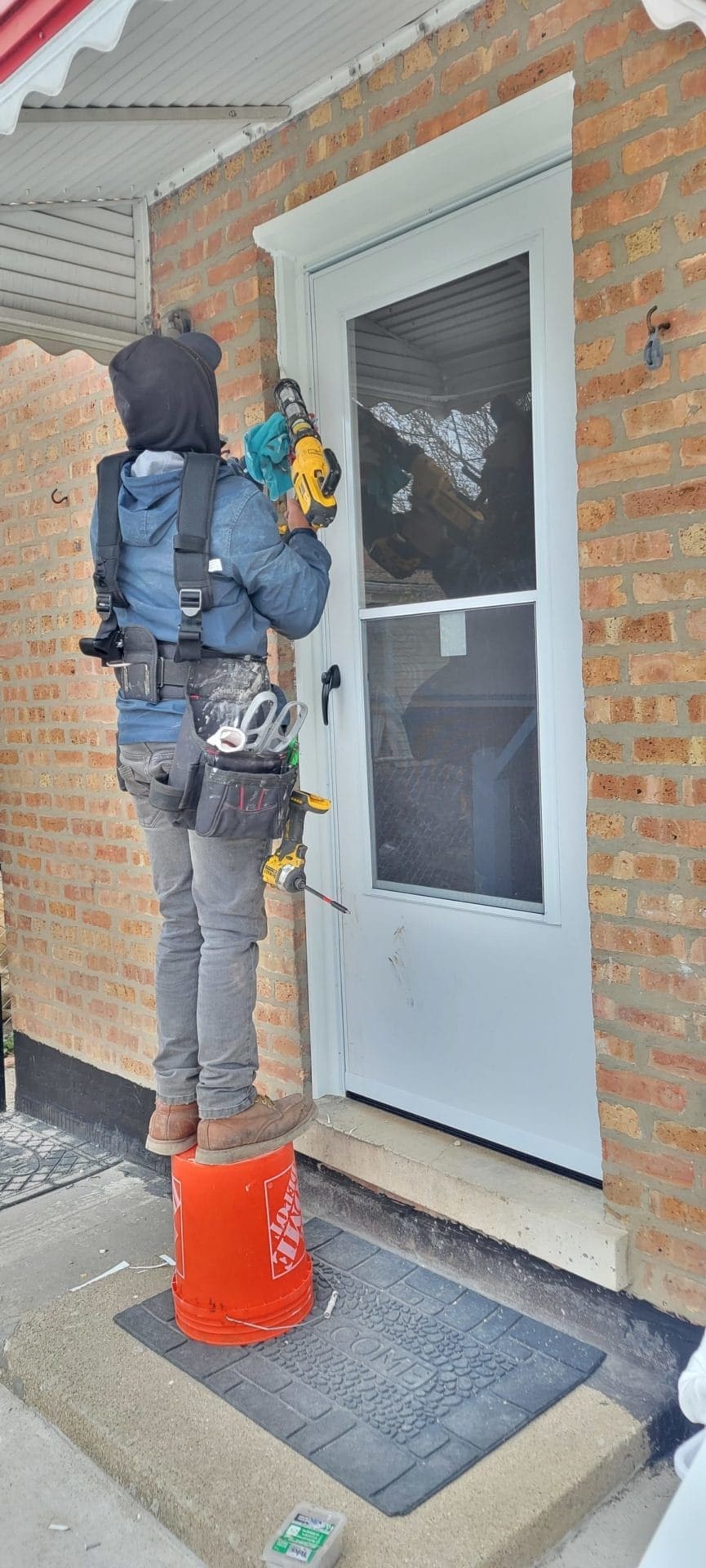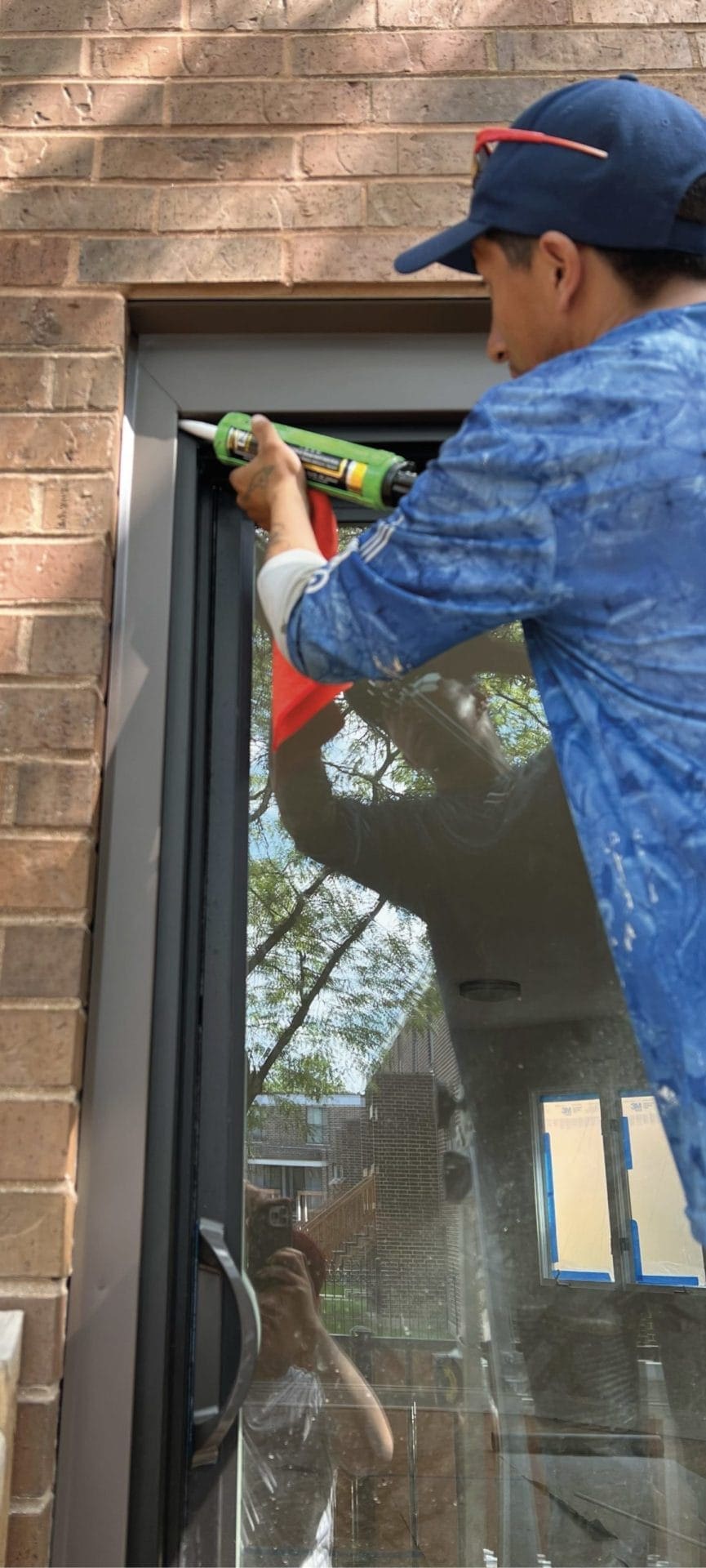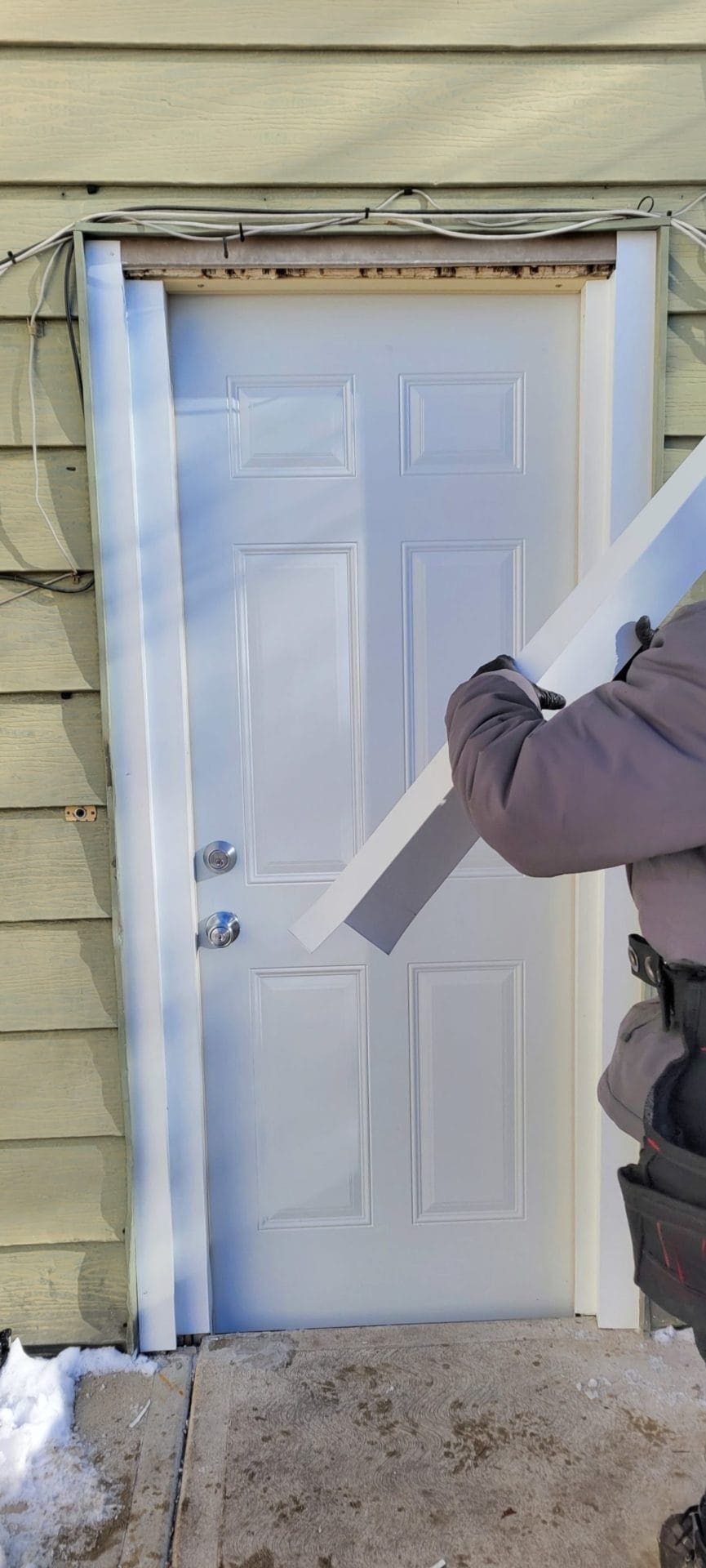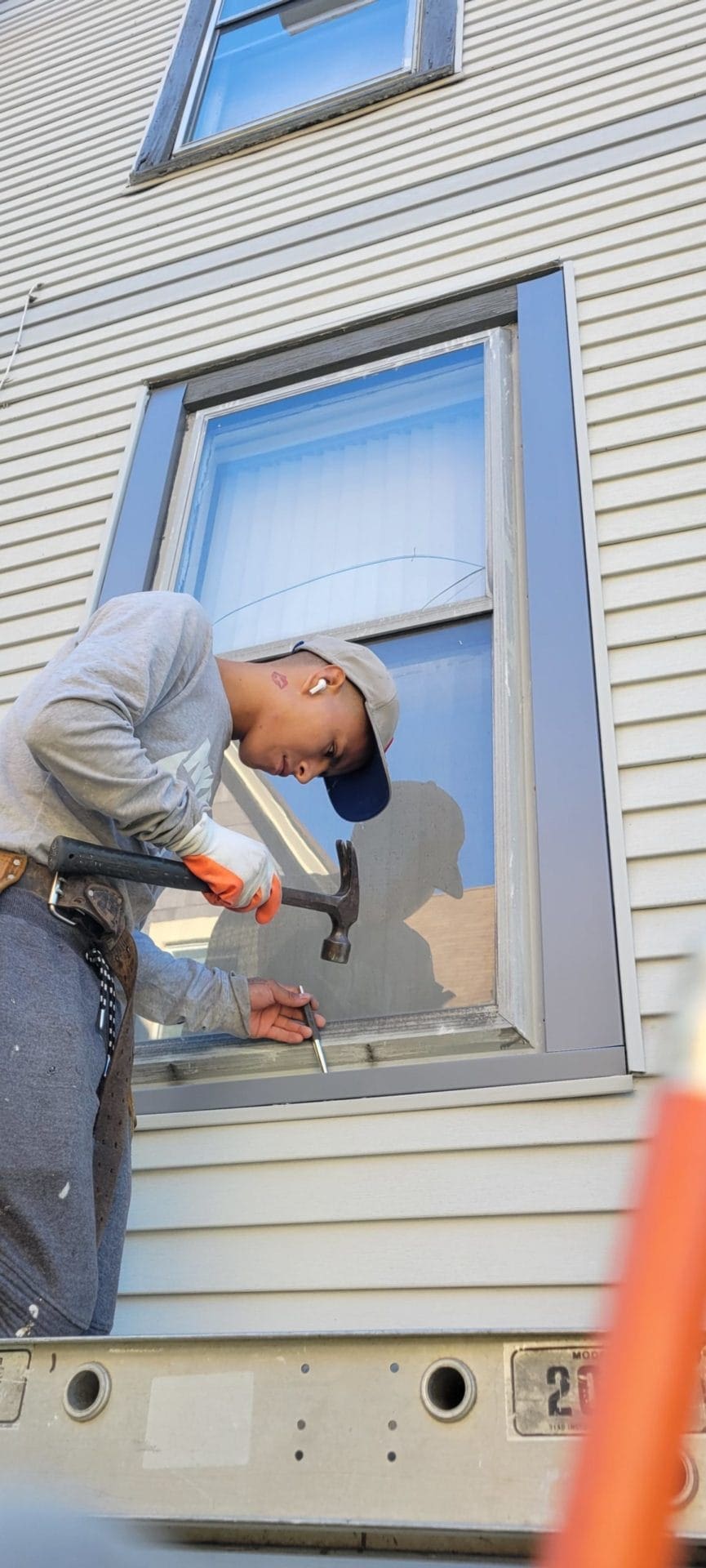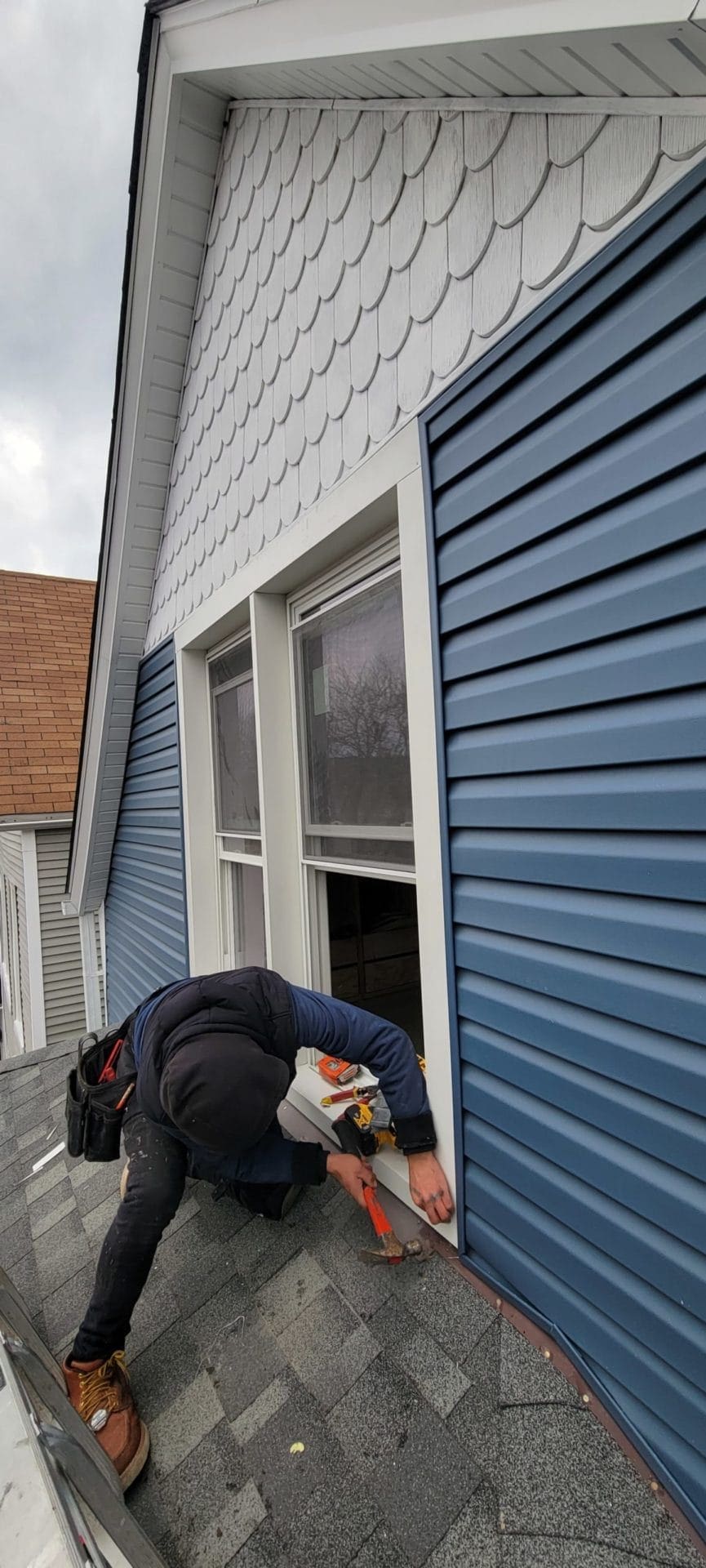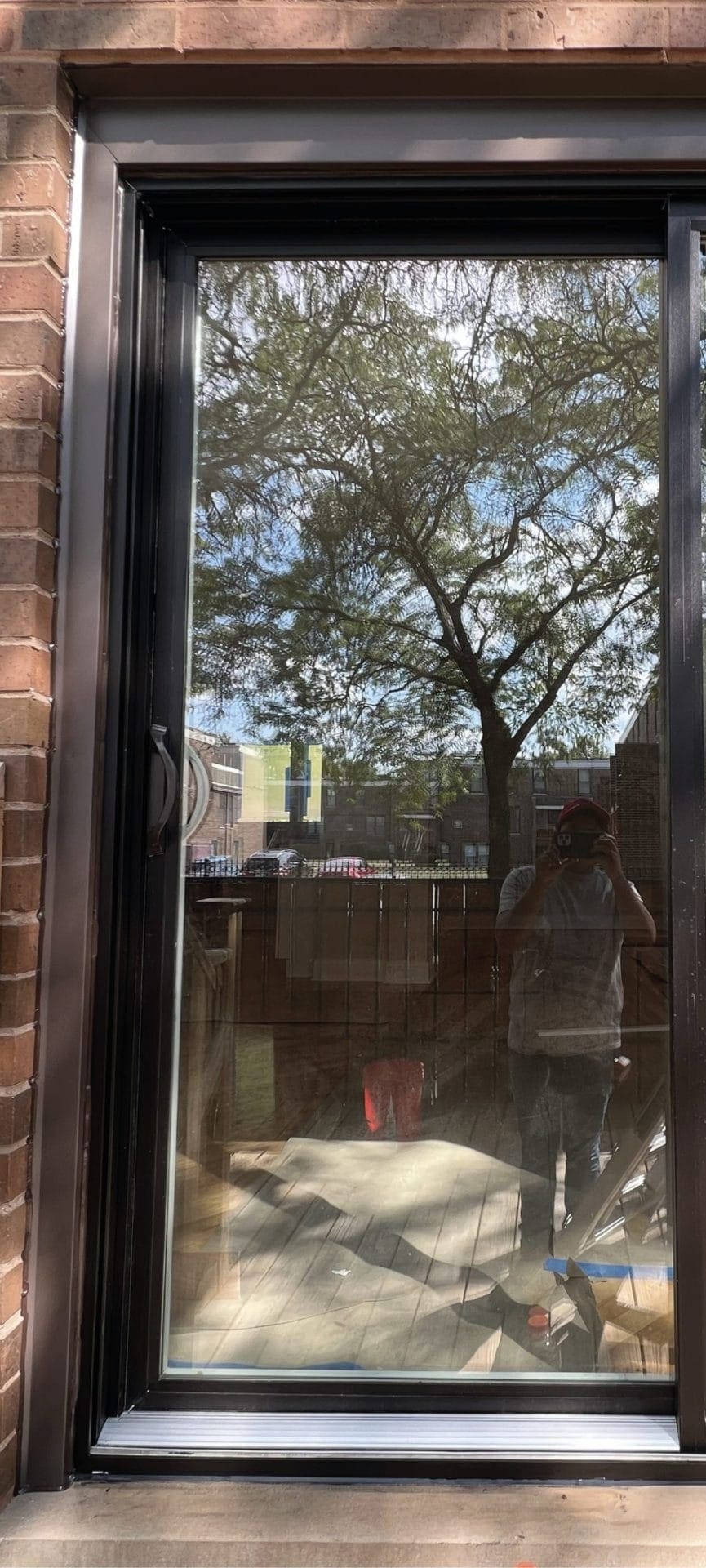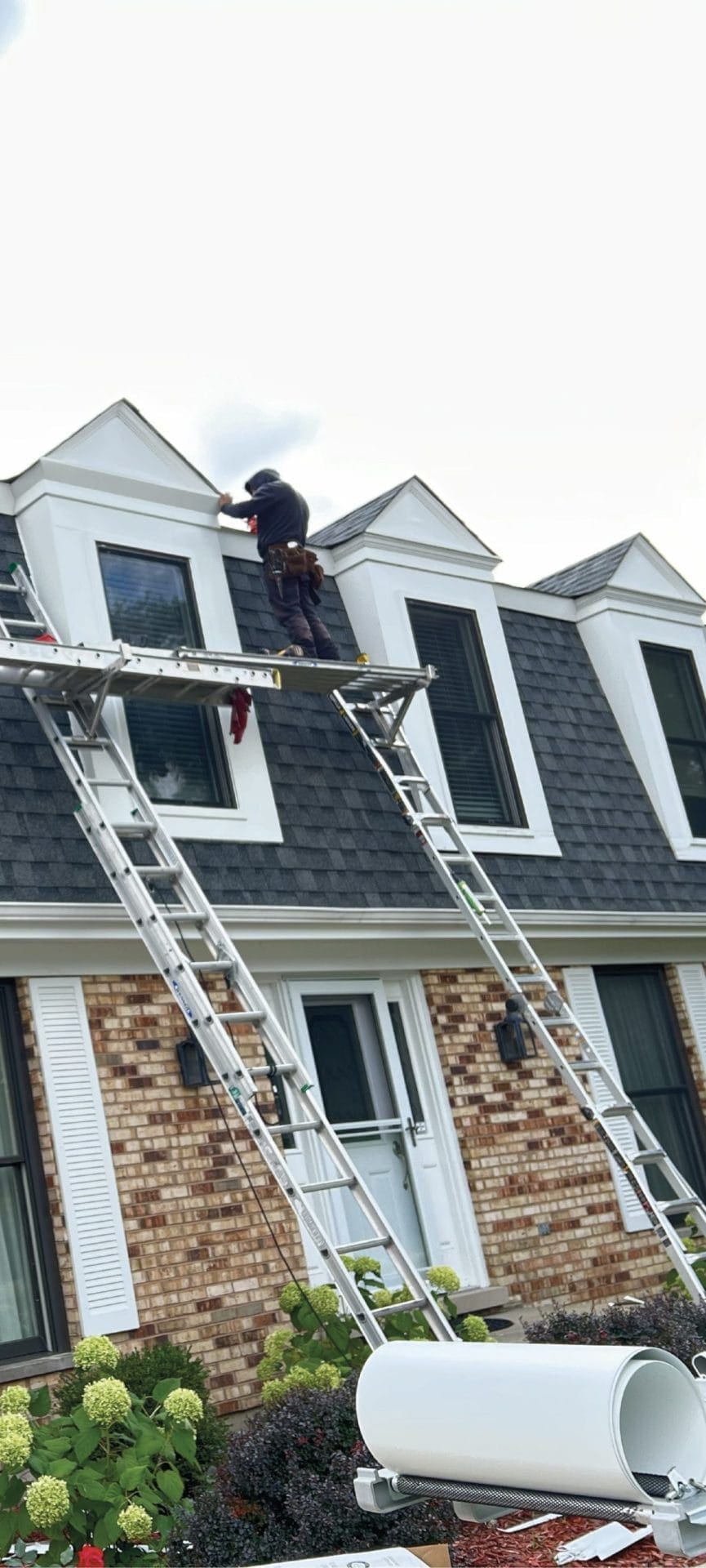 Signs of bay window damage may include cracks, warping, or water stains. It's important to address any damage promptly to prevent further deterioration and potential safety hazards. In some cases, repairing the damage may be possible, but in severe cases, replacement may be necessary. Regular inspections and maintenance can help prevent bay window damage and prolong the life of this architectural feature.
Aluminum window trim wrap
Excellent
4.8
★
★
★
★
★
Based on 104 reviews from
review us on
Gerald Nealy
★★★★★
Very professional and expedient, I would recommend them to all.
Emily Moore
★★★★★
Excellent customer service, extremely responsive and affordable. Will absolutely use them again!
William Heitner
★★★★★
Excellent work. I will use them from now on for cleaning and guards and tuckpointing
Tiana Williams
★★★★★
I needed to have siding, gutters, fascia, and soffit installed. After interviewing several contractors, I decided to do one last search and came across this company. Honestly their reviews were so good I was a bit skeptical but decided to give them a chance and I'm so glad I did. They were incredibly professional and hardworking. They completed the work faster than other contractors and were priced competitively. The owners were incredibly responsive and the crew kept me updated through the work. Would highly recommend them and use them again.
Kim Morris Lee
★★★★★
Excellent work. Customer focused.
Jennifer Silva
★★★★★
Very precise and on time. Will recommend them to some friends. They know how to do a job well done.
Jason Curtis
★★★★★
Shakia White
★★★★★
We had a Fascia repair as well as our columns repaired and repainted. The work was excellent! The condo association appreciates the A+++ customer service that we received from Enriquez Gutters.The team was on time, listen to our concerns, cleaned up after themselves, and the service was quick, and still done with a high level of detail.Thank you!
Peter Chang
★★★★★
Mr. Enriquez and his crew is honestly incredible. I lucked out on stumbling onto his contact when I was looking for a long term company to have my gutters serviced. I had a 3 story building that had a broken gutter and two downspouts that fell off after a harsh winter.He came quickly and his crew is some of the most professional and hard working. His team was super nice and their rates are extremely reasonable. I'm super pleased to find a long term gutter service contractor.
Michael Mueller
★★★★★
I contacted this company via the internet after I spent a good amount of time searching for gutter companies on Google and read countless reviews. I received a response within a matter of minutes. I briefly explained that I wanted some modifications done to existing gutters on my home. Edwin said he could come out to give me an estimate the very next day. Sure enough he showed up promptly and within a couple minutes he understood what I wanted and told me he could complete the work right away. The work was completed within 30 minutes and I was very impressed with how quickly everything was done. I also inquired about another job which he said could also be completed the same day if needed. I would definitely recommend this company and I will be using their services again in the near future.
Michele P
★★★★★
Excellent service that was reasonably priced. Would highly recommend their quality services to others.
ROBERT BROWN
★★★★★
Quick response. Professionally cleaned gutters and removal of debris.
Rosen Tanovski
★★★★★
I'm super satisfied by their work. Super fast, efficient and nice!
Marieme Fall
★★★★★
This company did an amazing job!! They installed some siding, gutters, capped some windows and also performed a few repairs in my garage. They also did fascia capping on the roof of my property as there were holes allowing animals to nest in my attic. 10/10 recommend. Their prices are very reasonable and they are reliable as they show up everyday until job is done. I will definitely use them again in the future.
Jose Paz
★★★★★
Had Gutters Enriquez install a scupper box and downspouts for my flat room. Edwin came out a few hours after I called him to give me a quote. I already had all of the materials pre purchased and on-site. The price was reasonable so the guys came out 2 days later to do the job.Hernan and Carlos did a good job and were very professional and they were also considerate. They had some questions along the way as this job involved cutting the brick through-hole to install the scupper and then repairing the bitumen (rubber) roof. The roof has seen better days but they were thoughtful about where they were cutting. I really appreciated they were careful about their tools and placement of supplies (e.g. nails) so as to not damage the part of the roof that was not being worked on.The guys cleaned up a couple of times along the way and also afterwards without me having to ask.Would definitely hire them again for this type of job. Thank you guys!
Collet Belisle
★★★★★
Quick and reliable
Heidi Fergerson
★★★★★
Gutter Enriquez provided EXCELLENT service, replacing gutters, soffit and fascia. HIGHLY recommended! Always on time, excellent workmanship, dependable, and great value.Highly recommend for all gutter, soffit and fascia needs and repairs. Thanks Edwin!
Stephen Rosenthal,
★★★★★
Great job. Fast, efficient and great customer service.
Tanja Messing
★★★★★
Awesome customer service and absolute professional!! Found him just through a simple google search for window and door capping, his free arrived that week and did a stellar job! Can only recommend.
Eugene Gonzalez
★★★★★
Chimney siding replacement. Excellent care an, quality labor and friendly.. Highly recommend them.
T G
★★★★★
Great job on our gutter repair. The gentlemen were fast, professional and cleaned up after the job was completed.
Yolanda Ortiz
★★★★★
Excellent work to repair a corner of my garage with a large overhang. It's great to find a company that doesn't mind a smaller job. Reasonable price as well. Will definitely recommend to family and friends.
Laddie Fisher
★★★★★
Nice job very professional quick clean up and nice job all around.
Terrance Williams
★★★★★
They take care of the business..will use them again really soon...
Bernice Yong
★★★★★
John Stoner
★★★★★
Great job, reasonable price. They relocated some downspouts, cleaned gutters, and replaced rotted wood on the corners of the garage. Many thanks!
Attilio Bonasera
★★★★★
Great company that does quality work! We will use them and recommend them to everyone!
Jen L.
★★★★★
Jose and his team arrived early were very neat, paid attention to detail and did a great job!! Highly recommended them!
Lisa Sampson
★★★★★
Great Job done and they clean up material left. Your place looks good .
Rebecca Mulford
★★★★★
Enrique came to the job himself with an employee. He let me know he would be early. Which was perfect due to the weather. They replaced the hanging Fascia on the front on my house along with connecting fascia. Prior to the job he quoted me a price along with giving full honesty about what needed to be done. Not once did he price gouge me. I highly recommend this company.
Josh Mahlum
★★★★★
I can say without a doubt that this company is great at what they do and are really professional. We originally contacted by Joseph, and he came out looked at what needs to be done, measured to make sure, and even took a look at the other windows that needed capping. He gave us a proposal and a quote that was fair. He explained the materials needed, the color of the capping material, the process, and the price. He gave us a date and time and then stuck to it. That FRIDAY, THEY CAME on time and began the process of cutting the capping, gathering the materials, and proceeding to cap the windows on the exterior. They installed our pre-hung window in exchange for an old bay window we wanted out for a while. They left no marks, cleaned after they were done, and did it well. It looks great and installed perfectly to where no heat o air can escape. I highly suggest this company for any exterior installations for windows, doors, or gutters. They are very responsive and Joseph is honest enough to let you know his strong points and weaknesses in jobs he does not know how to do but recommends the right people to do the job. We will have him do some porch work for us in the future since we feel comfortable with the company. Great job and crew. We are highly satisfied. Love the work they did and it only took them 1 full day and 1 hour or more to finish what was left.
Judi Gorman
★★★★★
Jose Enriquez and his partner did a phenomenal job in installing an attic air/vent fan that needed replacement. They were responsive, friendly, understood my concerns, and handled the job same day with upcoming rain. I have asked quotes for roofing/gutter needs as well. Thank you so much!
Starvros Casadine
★★★★★
Hi this company's the best !!!!!!! We had a problem near the gutters hole birds we're getting in the guys came out right away fast service I called same day they came out took care of the problem. I highly recommend !!
Amaze Jones
★★★★★
Jose Enrique is a fair business man who repaired my existing gutters. He also replaced missing gutters that were lost and destroyed due to storm damage. He came to the property on time, and gave me a fair estimate.After the work was completed I was very impressed. He didn't charge me more than he quoted, when I could obviously see he did extra work to ensure that his work resembled his business motto of ensuring customers satisfaction. I have already referred customers him, and next week he will be repairing my chimney.I am very satisfied.
Rick Lents
★★★★★
Quick response, true to the bid and timing and completed work without issue. Would recommend to friends and family
Max Dreeben
★★★★★
patrice calhoun
★★★★★
Good service. They were punctual and ready to work once they arrived and did a great job. They also explained what needs to be fixed thoroughly. Most of all they didn't rush!!
Fernando Gomez
★★★★★
They were prompt, very efficient workmanship and were very thorough in cleaning up after job was completed.
A J
★★★★★
Jose capped my windows and doors they did a good job. I will definitely use the company again.
Joe Stramaglia
★★★★★
Enriquez is AmazingGreat workOn timeAnd answers his phoneCalled him upSent him a picture of the damage of the gutterAgree on the estimateComes at 10AM the next morningThat day work is completedNo hasslesNo messAnd again he answers his phoneJob well down SirThank youFrom a happy customerHe's my Guy
Latasha Boyd
★★★★★
Edwin and Enrique showed up on time and got the job done! They worked very fast and were efficient. Please note I hadn't had my gutters cleaned in quite some time so it was a pretty messy job. They were very friendly and cordial. Another big plus for this company is the price was charged as quoted…no shenanigans! Will definitely use them again.
Samantha Goodman
★★★★★
Came out same day, fixed the leaky gutters. Prompt and professional, sent me lots of pictures of the damage and repairs once they were done. Would recommend!
David Lee
★★★★★
We called them after we had damage after a storm. They were great to work with, very responsive when we reached out for a quote and we're able to come out and repair the damage the next day.
Rodolfo Diaz
★★★★★
good prices and professional work,recommended!
Tomora Bester-Jackson
★★★★★
These guys were pleasant, timely and professional. I appreciated the attention to detail when capping my windows and installing insulated siding to underside wall behind front porch! I'd definitely recommend this company!
Brian Danaher
★★★★★
Enriquez did a great job and same day as request was made. I will bring them back for more work.
Jose Andres Contreras
★★★★★
Mitch Dworzanski
★★★★★
123456Cleveland
★★★★★
Had them come out to replace fascia that got ripped off by a storm. They were quick to respond and showed up exactly on time. End product looks good. Price was reasonable as well.
Tawana Johnson
★★★★★
Emily Anderson
★★★★★
Reached out about repairing two dripping corners of our gutters. Got a quick response, was able to schedule our estimate and book the next day.The work was completed within just a few days week after the next rain, the walkways under our previously dripping corners were dry. Would call again!
Matt Connor
★★★★★
They are first class and work very hard to provide the best service, we will continue to utilize their services!
Miriam Hayes
★★★★★
Excellent work would recommend
Andre Tillery
★★★★★
Guys replaced my downspout with precision and professionalism. I highly recommend them for your gutter needs.
Darrick Mclaurin
★★★★★
I recently had the pleasure of using Gutters ENRIQUEZ for my gutter cleaning and replacement needs, and I have to say that I was thoroughly impressed with their service. From start to finish, the experience was nothing short of excellent.Firstly, the team was incredibly professional and courteous. They showed up on time, introduced themselves, and explained the entire process to me. They were happy to answer any questions I had, and they even provided some helpful tips for maintaining my gutters between cleanings.Secondly, the quality of their work was top-notch. They took great care to ensure that every inch of my gutters was thoroughly cleaned, and they even went above and beyond by removing some debris that had accumulated on my roof. They left my property looking spotless and even provided before and after photos so that I could see the difference.Finally, their pricing was very reasonable. They provided me with a clear and transparent quote before starting the work, and there were no hidden fees or surprises. I felt that I received great value for my money, and I would definitely use their service again in the future.Overall, I would highly recommend Gutters ENRIQUEZ to anyone in need of gutter cleaning services and /or replacement. They are professional, thorough, and affordable, and I am confident that they will exceed your expectations just as they did mine.
Richard Unizycki
★★★★★
Came early. Cleaned up nicely. Took photos of work. Very happy
Lizzy Mutter
★★★★★
We used Gutters Enriquez for gutter repairs and we are very happy we did. They were very responsive and came out quickly to assess our problem. They were on time, friendly, and professional. On top of the work we had scheduled, they were able to point out a few additional problem areas and repaired them that day as well. We were appreciative! If you need any gutter repair or service we would recommend Gutters Enriquez!
Terrance Jeffries
★★★★★
Wow. What a great job. The team was always on time and ready to work. The price was reasonable and the finished project was amazing. I'll definitely be recommending the company to family and friends.
S Coleman-Murff
★★★★★
Gutters Enriquez - Chicago replaced our gutters, downspouts and some tuckpointing on our small multi-family building. This company did an excellent job! Their workers was on time, professional, and detailed in there work. They came on time and yes I said it twice, because I really appreciate contractors showing up when they say they will. We have never replaced the gutters and downspouts on this building, so I was a little anxious about how it would look. But my husband and I are very pleased with the results. The workers did a great job on the tuckpointing too, and in my opinion at a great price.
Joseph Kelner
★★★★★
They did a fantastic job. Very prompt and professional. Would definitely hire them again for any siding/roofing needs!
Amy Plosz
★★★★★
We called the team after the wind knocked down a section of our downspout. They came to take a look, quoted a competitive price and completed the project within the same day. I highly recommend!
Joe Brcak
★★★★★
Were able to get my gutters done quickly and efficiently for a reasonable price. Thank you!
Tom Paulikas
★★★★★
After some storm damage revealed poorly done siding that was slapped over old asphalt shingle siding, we decided to re-do our building's entire 3 story enclosed back porch and stairway, as well as install a new, better gutter, along with some tuckpointing. Jesus, Edwin, and team were not only always on time, but communicative, professional, and extremely good at everything they did. Honestly, expectations were exceeded and we're thrilled with the job! The site was left clean, and everything looks fantastic. The process was just how you'd want it to be, smooth sailing. And the cost was very reasonable, you won't feel ripped off. We're already planning a roof recoat, we really need, and Gutters Enriquez will be our number one choice! A huge thumbs up!!
Carlos Santiago
★★★★★
Awesome work by these guys!! Will definitely hire them again...
Lytton Despenza
★★★★★
Great job...
m h
★★★★★
Had a loud drip in a gutter and needed some new gutters put along the side of my garage.I called 3 different contractors to get bids, and decided to go with Enriquez gutters. Very glad I did.They were responsive - got me scheduled immediately. My work was complete in less than 48 hours from first reaching out.Clear pricing from the get-go. No nonsense with trying to upsell you anything or get you on a maintenance contract.Just great work, promptly done. Highly recommended.
Jeanette Gort
★★★★★
Second time we used Enriquez for gutter issues, this time for garage. As before, work was done quickly and professionally. Anyone needing gutter work, siding, etc. should contact this company. You won't be disappointed!
Tremicka Bryant
★★★★★
Great service! I initially placed a call for downspout replacement. I received a quote promptly and they were came out the next day. They pointed out areas in my siding that needed replaced. I've had other contractors out to replace pieces of siding but none of them matched my original siding....which was huge eyesore. Was told the color was discontinued by the manufacture which I now know is a lie. Mr. Enriquez showed me siding swatches and I found the exact match to my siding. His team came back a few days later and did an impeccable job at replacing that along with warped siding underneath the gutters on the entire upper part of my home. They're coming back in the spring to take a look at my roof. You won't be sorry if you hire them. They do excellent work!
Tom Fazzini
★★★★★
Contacted Enriquez about a downspout repair and he responded quickly and repaired the problem well. Would recommend.
Michael Lomenick
★★★★★
Found this company online. Requested a quote. They arrived next day and did a great job. My previous service 'fixed' my loose downspouts and that lasted till the next storm rolled in. These look much better. I will definitely have them back.
Tom Spenny
★★★★★
We needed gutters on a garage at the Noble-Seymour- Crippen House, a historic house owner by the Norwood Park Historical Society. I called on a Thursday afternoon and they came out the following morning. In 2 hours we had 2 nice gutters installed on the garage and they look great. Edwin listened to our requests and did a fantastic and professional job at a good price. We will most certainly use Gutters Enriquez in the future and will also use them when I need work at my personal home.Tom Spenny
Shalonda Magness
★★★★★
We used them for gutter service. They were very professional and did a great job.
Kristin & Desereé Sanchez
★★★★★
Very happy with our gutters. Had a little hiccup with the install but they came back and responded immediately to resolve the small issue. He even helped brainstorm some gutter re-routing on a downspout which did successfully fix the pool of water that had no where to safely go. I had them install black gutters (beautiful and always in their inventory) on both house and garage.
Fred Johnston
★★★★★
Would highly recommend. Owner showed on on time to provide a bid which was extremely competitive. The work was completed the following day as specified and site was left clean. Exactly what was needed.
Kevin Pavloski
★★★★★
Great service. I called for a gutter cleaning and they responded within 15 minutes and came out the next day.
Julie Arinaga
★★★★★
Great service!!
Latrice McKnight
★★★★★
They were on time and did not stop and take a break until the service was complete. Took the time to ensure my guttters were clear of all debris and explained what my next steps should be and why.
Frank Miranda
★★★★★
I really like the job you guys did, the service was great I recommend to others that this is the place to come.
Hiten Patel
★★★★★
Edwin was quick to respond and provided timely service. Work was well done.
Edwin Enriquez
★★★★★
Gutter installation and Gutter RepairThey did very well
J Frederick
★★★★★
Cleaned my gutters and installed new gutter guards. Job was done very quickly and professionally (excellent quality work). Would highly recommend!
Russell Whitney
★★★★★
I reached out to Gutters Enriquez to replace inadequate residential style gutters with galvanized commercial gutters on a small apartment building. They responded quickly with an estimate and went to the property the following day to confirm the price, which I thought was very reasonable. They were able to do the work only a few days later, showed up on time, completed the work in less than a day, and left the area I clean upon leaving. They re-roofed over the new gutter flange to ensure a complete system. I would absolutely recommend them and will use them in the future if needed for other properties.
Mark Van Wieren
★★★★★
Gutter cleaning was perfect, easy to schedule, and so thorough. They are great communicators and prompt.
gentries miller
★★★★★
They were on time and did a very good job. They clean up behind themselves. They were very professional. I would recommend them to friends and family.
Robin Wendell
★★★★★
Called today for a gutter cleaning he came right away cleaned the gutters and replaced some broken hangers great job will use again and recommend highly
Stephen Krofl
★★★★★
So happy to have found Gutters Enriquez - they responded to our request quickly, provided a quote within the hour and were out the next day to clean our gutters! They were on time and did a great job. We will use their service again in the future!
Liz Rivera
★★★★★
Extremely Professional, Punctual and great work they performed on cleaning all of my gutters and aligned the necessary ones. Will continue to do future business with them. I highly recommend Gutters Enriquez.Mike & Liz Rivera.Edison Park, Chicago, IL
Dave Dyrek
★★★★★
My experience from the start to finish with Enriquez Gutters was fantastic. They came out for an estimate within a few hours of my phone call. They started on time, we're very professional and did a better job than I expected. I believe I could not have hired a better company for my gutters and siding.
Norma Valdez
★★★★★
I highly recommend Enriquez Gutters. They are professional, provide quality work and are very responsive. Competitively priced. Will go to them again for any gutter needs.
Walid Zarzar
★★★★★
Enrique and his crew are good people. I will hire them again for all my gutter projects and I recommend them to others. When my commercial building needed gutter replacement, Enrique responded quickly with an estimate and completed the job on time and with excellent quality. He guarantees his work and respond quickly for inquiries. Enrique provides good quality, good value, professionalism, and responsiveness. I am pleased with his company's work.
J D Lott
★★★★★
Great service
Liz Albertson
★★★★★
Mary Staehlin
★★★★★
Great job and price.