Roofing Service ENRIQUEZ is a well-known and reliable roofing company in Chicago that has been providing top-notch roofing services to its clients for many years. The company is dedicated to ensuring that its clients have access to high-quality roofing solutions that meet their unique needs and preferences.
Roof repair
The team at Roofing Service near me Chicago is comprised of highly skilled and experienced roofing professionals who are committed to delivering outstanding results on every project they undertake. Whether you need roofing repairs, maintenance, or installation services, you can count on them to get the job done right the first time.
One of the things that sets Roofing Service Enriquez apart from other roofing companies in Chicago is their commitment to using only the best materials and equipment on all of their projects. They understand that the quality of the materials used in a roofing project can have a significant impact on its longevity and performance, which is why they always source their materials from trusted suppliers.
ROOF REPLACEMENT IN CHICAGO, IL AND SUBURBS
Roofs wear out over time by weather and the elements, and even sustain serious damage from outside sources such as workers performing maintenance on roof top equipment. If the roof of our building becomes too damaged or worn out, it may be time to have it replaced.
Worn out and damaged roofing systems are much more susceptible to leaks and structural damage that can increase the risk of collapse.  It is very important to hire an experienced and trusted roofing contractor to handle the intensive job of fully replacing a commercial roofing system.
ENRIQUEZ LLC is a licensed roofing contractor that can provide complete roof replacement services for commercial buildings in Chicago, IL.  We will work with you to determine whether your roof can be re-covered (add a second roof) or whether it needs a full tear-off and replacement.
ROOF REPLACEMENT CHICAGO, IL
We can install any type of roofing system for a wide range of commercial and industrial buildings and we use the best roofing materials available from the most trusted manufacturers of the roofing industry.
Our technicians are licensed to replace commercial roofing in the state of Illinois and we are fully bonded and insured for your protection.  ENRIQUEZ Roofing is also a member of the National Roofing Contractors Association (NRCA) which means that we are dedicated to providing ethical, cost-effective roof replacement.
Roof Damage Repair
Roofing Service Enriquez offers a wide range of roofing services to both residential and commercial clients in Chicago. Some of their services include roof repairs, roof maintenance, roof installation, and roof replacement. They also provide emergency roofing services for clients who need urgent repairs due to storm damage or other unforeseen events.
The company has built a solid reputation for its exceptional customer service and attention to detail. They understand that every roofing project is unique, which is why they take the time to listen to their clients' needs and preferences before offering customized solutions that meet their requirements.
Roofing Companies near me
In summary, Roofing Service Enriquez is a reliable and trusted roofing company in Chicago that offers high-quality roofing solutions to both residential and commercial clients. With a team of experienced professionals and a commitment to using only the best materials and equipment, they are well-equipped to handle any roofing project, no matter how big or small. Roofing companies south side, Chicago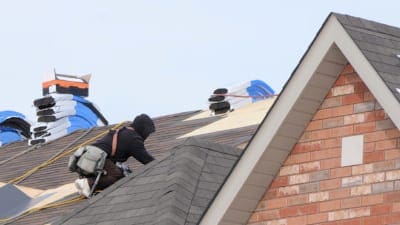 Roofing Service Chicago